Are you one of the millions of crafters suffering from "Stampitis"?
Some symptoms include staying up all night for new release parties, blog hopping till your wrist is sore, spending your budget for supplies three days into the month. At this moment there is no cure for stampitis, but there is help.
If you need somewhere to turn to talk all things stamps, to learn of new companies you didn't even knew existed, or just to get silly with a bunch of grown women, then you might want to check into the Stamplicious Yahoo group. Enablers of all kinds are welcome!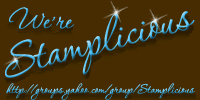 Join the dark side, we have chocolate!